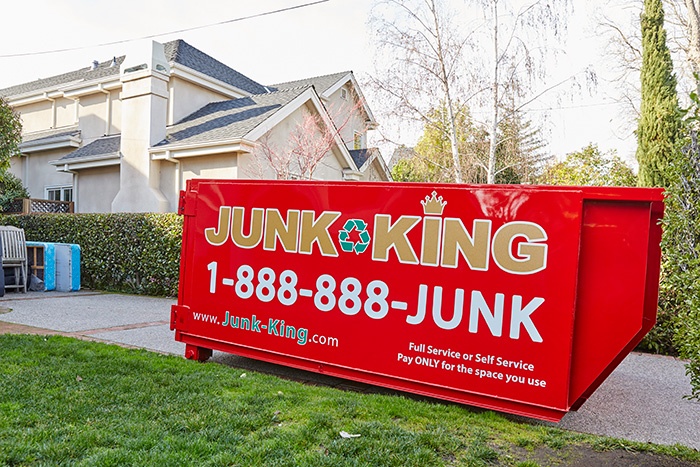 There are times when you really can't have your junk loaded and hauled off in just one trip, or on one occasion.
Maybe it's a week-long renovation project that generates junk and debris every day. Or perhaps, you need a few days to pile up all the unwanted items and other junk from your house, but you don't want it piled up in your driveway or front yard.
We get it. And that's why our dumpster rental service is a great option.
But you may be thinking, "Rent a dumpster? For my house?"
Dumpster Rentals From Junk King Dayton – Your Other Junk Removal Option
Actually, you can. Seriously!
And there are several reasons why renting a dumpster makes more sense for your junk removal needs than calling a junk removal company like Junk King to come to your home or place of work. 
Perhaps you're in the throes of a bathroom or kitchen remodel. And that often means the work can take several days and create debris and piles of waste throughout that time. 
In fact, this kind of junk generation might occur over a week or more, which means it's probably not feasible or even safe to let the debris pile up in your home or workspaces. But having a Junk King MINI Dumpster nearby is a great solution.
On the other hand, you could be removing an old deck or fence that will not only take days to finish but is generating piles of old lumber and other organic waste. Not to mention discarded packaging and other assorted trash items. 
Simply put, a convenient dumpster sitting nearby during the course of your project is far more efficient than trying to pile it all up someplace to be removed later, or even taking the time to make numerous trips to the local dump or landfill. 
And getting to the few landfills or transfer stations available in Montgomery County is no picnic. 
In addition to the few scenarios we've described here, there are many other reasons for choosing a dumpster rental over a full-service junk removal pick up. And there are probably many questions you may have about renting a dumpster from Junk King Dayton.
Junk King's Big MINI Dumpster
The Junk King MINI Dumpster is a conveniently sized, 12-cubic yard debris bin and is the perfect size for just about any junk removal project. The MINI fits in almost any driveway and is often the perfect size for a two or three-day junk removal project.
But how much junk can fit into a "12-cubic yard" capacity dumpster? Good question!
Try to visualize the bed of a full size standard pickup. Typically, they are eight feet long, about five and half feet wide, and close to one and half feet deep. This truck bed can hold two and a half cubic yards of material when it's loaded level with the sides of the bed.
Turns out that our MINI Dumpster has the capacity equivalent of almost five pickup truck loads!
This means that a Junk King MINI Dumpster is also capable of holding large amounts of junk items including large ones like broken-down appliances and old furniture.
And, best of all, it means that homeowners (and others!) can easily load these unique rental dumpsters themselves.
Those massive and ugly commercial dumpsters can be as much as eight feet tall and twenty-four feet long and take up a huge amount of space. But our user-friendly MINI Dumpster is just seven and a half feet wide and eleven feet long. Yet, its 12-cubic yard capacity holds a surprisingly large amount of debris and junk!
By the way, our MINI Dumpster is also equipped with special polycarbonate wheels, which means it's also a "driveway-friendly" dumpster and can be delivered to your home or office, dropped off on your property, and all without causing damage to your driveway or the street in front of your house.
These self-service dumpsters rentals are great for almost any residential work project including kitchen or bath remodels and other types of large clean ups. Yet, their small size means having a dumpster that is also compact, affordable, and easy to use.
Working With Junk King Dayton for Dumpster Rental
First, you will want to book your dumpster rental. Afterwards, we'll ensure a timely delivery based on the date and time slot you have designated.
With Junk King Dayton, you can easily schedule your preferred drop-off and pick-up dates and times in advance. And, once you've done so, we guarantee that our teams will be on time for both appointments.
In addition, our team will call you 15 minutes before your scheduled drop-off time to ensure that you're there to accept the delivery of your MINI Dumpster.
And, even though you will have set up a pick up day and time at the time of booking, if you find that you're going to need your MINI Dumpster rental longer than you originally planned for, you can simply give us a call and we will adjust your pick-up date and time accordingly.
And the best part of working with Junk King Dayton is that we always provide you with our world-class service and competitive pricing. Our self-service MINI Dumpster rentals are rated Number One in all North America, so you can rest easy knowing that you are in good hands.
We also created this illustrated guide to five good reasons to rent a Junk King MINI dumpster:
So, give us a call when you're ready to use one of our unique dumpsters for your junk!
Dumpster or Truck, Our Junk Removal is Still "Green" Junk Removal
Unfortunately, far too many junk removal operations function by simply taking all the items and material they pick up and dumping them at the nearest landfill. While this may be a quicker and more cost-effective disposal process for them, it's not very eco-friendly.
You should know that's not how we do things at Junk King Dayton.
In fact, our junk disposal process starts with us taking your junk and trash that we've picked up from you either in one of our MINI Dumpsters or in our trucks and transporting it all to our local Junk King warehouse.
At that point, it is all carefully sorted through so we can separate all the items that can either be reused, repurposed, or just recycled.
Junk King's corporate mission has always been to remove as much of your waste and junk items as possible before ever taking material to a transfer station or landfill. We have always done this, and we continue to work hard to protect the planet and provide ever more sustainable solutions.
Because we know that everyone wants to be green when disposing of junk and debris, we go to great lengths to take care of it for you.
And this is why we've been named "America's greenest junk removal service."
Get Your Dumpster Rental in the Dayton Area
Junk King Dayton can provide you with an efficient, accessible, and user-friendly rental dumpster that can make your junk removal process easier for you. And our expert dumpster rental team will quickly and safely drop off and then pick up your Junk King MINI Dumpster right on schedule.
Keep your home clear of piled up junk and debris, and take your time loading our unique dumpster until your cleaning project is complete. When you're ready for us to pick it up, simply give us a call.!
And, if you need another day or two, no problem! Just let us know and we'll extend your rental period accordingly. And just because it's going into a dumpster instead of one of our trucks, all your junk will still be disposed of at a proper recycling facility to help protect our ecosystem.
Without question, if you need a rental dumpster you should choose Junk King Dayton. It's the smart option for several good reasons, not the least of which is that we will do everything we can to meet and exceed your expectations.
In addition to dumpster rentals, keep in mind that Junk King Dayton offers a variety of other equally efficient, eco-friendly, and touchless junk removal services.
No matter what the reason or what type of junk, you don't need to worry about how to get it removed and disposed of.
If you decide to simply call to have us do it for you instead, you can be assured that our friendly and experienced junk removal team will quickly and safely remove and haul off any types of junk you have (except hazardous waste.)
Our professional and insured junk disposal team will come to your home or place of work and we will call 15 minutes before we arrive. Once we're on-site, we'll drop off your rental dumpster at your curb, or in your driveway or side yard, if it's accessible.
Ready to get rid of your junk with one of our MINI Dumpsters? It's as simple as 1, 2, 3. You can book a dumpster rental online above or by calling 1.888.888.JUNK (5865).