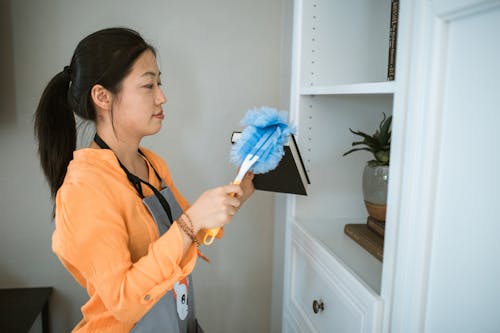 Spring cleaning is the custom of giving your home a thorough cleaning in the springtime. Its exact origins are unclear. However, that hasn't stopped people from coming up with a wide range of potential explanations. For example, spring cleaning is sometimes speculated to have been inspired by the Iranian practice of cleaning everything before Nowruz, which is a time of new beginnings as the first day of their solar calendar. Similarly, Pesach (Passover) is another popular candidate because observant Jews are required to refrain from leavened foodstuffs on occasion, which includes removing small crumbs of leavened foodstuffs from their homes.
Having said this, it is possible that spring cleaning became popular in both Northern Europe and much of North America for much more practical reasons. After all, a wet, continental climate meant that March was the perfect time for cleaning a home in early modern times. It was warm enough that people could open their doors and windows to let the wind carry away the dust from their dusting. At the same time, it wasn't warm enough for swarms of insects to get in through those same doors and windows. On top of this, coal furnaces stopped being used in springtime, so it was possible to clean the soot without having said effort rendered useless by the very next day.
Whatever its origins, spring cleaning is a good idea. Every home benefits from a thorough cleaning from time to time because that keeps it in a presentable state. As such, you might want to give spring cleaning a go yourself.
What Are 4 Tips For Spring Cleaning?
You can call in the professionals for their assistance. However, you can also do a great deal on your own, particularly if you consult the right spring cleaning tips:
Declutter
For starters, decluttering is one of the most useful cleaning methods. After all, getting rid of stuff makes it much easier to clean everything that stays behind. As a rough rule of thumb, if you haven't used something in 12 months' time, you should give some serious thought to either donating it, selling it, or even tossing it out because chances are very good that you won't be using it ever again. There are real exceptions to this rule. However, you should adopt a certain degree of ruthlessness in this matter because that makes for the best results.
Keep Your Cleaning Product Purchases to a Minimum
Some people get so enthusiastic about spring cleaning that they buy a huge number of cleaning products so that they have something specific for every single task. This tends to be a bad idea. One, you spend a fair amount of money on a lot of clutter. Two, you should be able to get similar results by using microfiber cloths plus an all-purpose cleaner. If you come upon something that calls for a specific cleaning product, you can pick it up then.
Get Everyone Involved
Spring cleaning can involve a lot of laborious and time-consuming tasks. You can handle everything on your own. However, you will find spring cleaning much more manageable by splitting it up with everyone else in your household. Even kids can help out provided that they are assigned age-appropriate tasks.
Don't Clean Everything in One Go
On a related note, you shouldn't try to complete your spring cleaning in one go. Instead, it is a better idea to divide up the tasks so that you can do everything over the course of a few days. By doing so, you minimize the chances of you becoming overburdened, thus maximizing the chances of effective and efficient cleaning. For that matter, regular cleaning year-round can make spring cleaning less of a hassle.
What Are the Benefits of Hiring Professionals
If you are feeling overburdened, you should contact the professionals for their assistance. Sometimes, you'll just want them to handle the trash from your spring cleaning. Other times, you'll want them to get involved in the spring cleaning itself. In both cases, you can save a lot of labor in exchange for a reasonable price, particularly if you make sure to research the pricing beforehand. Of course, this is contingent on you choosing the right junk removal service for your particular needs and circumstances. Fortunately, the Internet makes it very easy to look up reviews as well as other sources of information that offer insight into what to expect.
Junk King Spring Cleanout Services
Junk King San Fernando Valley is a reliable and reputable junk removal service provider for the surrounding region. If you need junk removal services because of either spring cleaning or some other reason, you should contact us at your earliest convenience. By asking questions, you can become fully-informed about the options that are available to you, thus empowering you to make the best choices for yourself.